Geocoin, Medal and Promotional Product Production
As well as our craft items, craftgenix also offers a production service for medals, pin badges, geocoins, keyrings, bumper stickers and much more.
craftgenix has built a reputation for high quality products, creative design and outstanding pricing & service. We have designed and produced thousands of items for companies, charities, sports teams, organisations and individuals. Here are just some of our satisfied customers:
Edinburgh Geological Society
Asha's Creations
Ripon Cathedral School
JP's Geodesigns
Stramash Creations
The Hopetoun Arms Hotel
The Scottish National Wheelchair Curling Team
UK Geocaching Mega Events 2017 to 2021
Mega:MK 2023
Caledonian CacheFest
We believe in making it simple for our customers and making sure you are 100% satisfied. Our process starts the minute you contact us, whether you want a complete design and production service or you need to reproduce an existing item. Every customer receives the same 100% commitment to producing your item
.
A few examples of products we have produced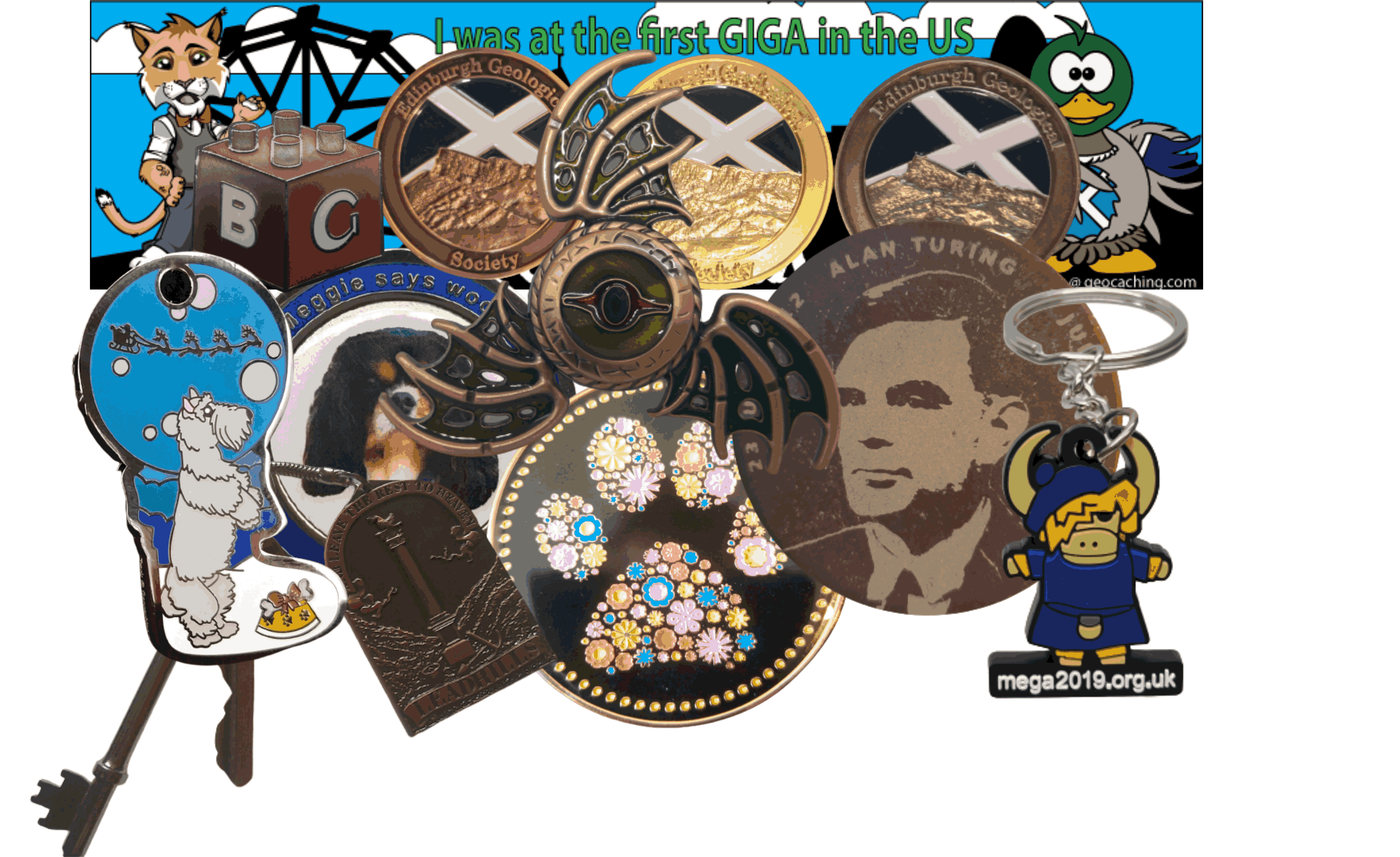 How do crafgenix produce these items?
All metal and PVC items are made by world leading factories in China. We have a long standing relationship with the factories and because of this we are able to obtain the best prices and quality control.
Embroidered items, such as patches, are normally made in the UK however depending on your requirements we may have these made in China.
Slate items, such as promotional coasters or keyrings, are all made right here in Scotland by craftgenix.
Trophies and awards. These items vary depending on the materials used. We make many wood plaques and acrylic trophies in our workshops.
Stickers are made in the UK or Estonia. If you need 200 stickers that are all identical then we would normally have these produced in the UK. If you require stickers that need each one to be personalised or have an individual number on them, we would have these made in Estonia.
What about quality?
We do not use the cheapest producers, we could get some items made at a lower cost but the quality of the finished item is paramount to us.
With metal items other producers have a 10% fail rate agreed with the mints, craftgenix has an exclusive 1% fail rate agreement with our mints. This means that other producers will accept upto 10% of the finished items with faulty workmanship and you will not receive any refund or compensation for this. That is 1 in 10 items that you pay for being faulty!
craftgenix's exclusive 1% agreement means that if more than 1 item in 100 is faulty the entire production is rejected and will be remade at the mint's expense. If less that 1% are faulty the mint will either remake the faulty items or refund the cost of these items to you. Over the last 12 months our products have a fault rate of less than 0.1%. Over the last 6 month we have had a fault rate of 0%.
How do I get an item made?
This is simple, just start the process by using the contact form or by emailing craftgenix@geocacheland.com
I want a geocoin making, why should I use craftgenix?
Here are the main 5 reasons you should use craftgenix:
Our quotes are all inclusive. They include shipping, taxes, design work and are fully itemized. There are no nasty hidden surprises! You will probably find that our prices are lower than other producers once you add all costs onto their quotes.
You keep ownership of your artwork. With some other producers you pass ownership and copyright on any design to them when you agree to them producing your geocoin. This means they are free to use your design as they want and you can no longer use it yourself! craftgenix do not do this, the design is yours and yours alone.
Mold retention. Most producers only keep the mold for your geocoin for 2 or 3 years, it is then scrapped. Molds made for craftgenix are kept for a minimum of 5 years and can be kept indefinitely if you want. There is no cost for this.
Choices, craftgenix offer more production choices that other producers. For example, as standard we offer over 40 different metal finishes including two tone and real gold. We can also print on 3D surfaces giving you unlimited colour choices for your designs.
Quality! Above all other points, quality is paramount to craftgenix. From our agreements with the factories to the fact that we individually check each and every geocoin by hand before sending them to you, quality always comes first.
I want keyrings or pin badges making for my company, is there a minimum order amount?
This depends on the material being used. If they are wood, slate or acrylic and made in house by craftgenix then there is no minimum order amount. If making from PVC or metal then there is normally a minimum order of 100 items, but this is not set in stone. craftgenix have produced just 20 of a pin badge for one customer.
The important thing to remember is that there are set costs that will affect price, such as design or production of molds. The more of any item you have made the lower these costs per item.
I need lanyards and cuff links making. You don't say you make these.
We can make many items that are not mentioned on the page, including lanyards, tie clips, earrings and belt buckles. Please contact us here or by emailing craftgenix@geocacheland.com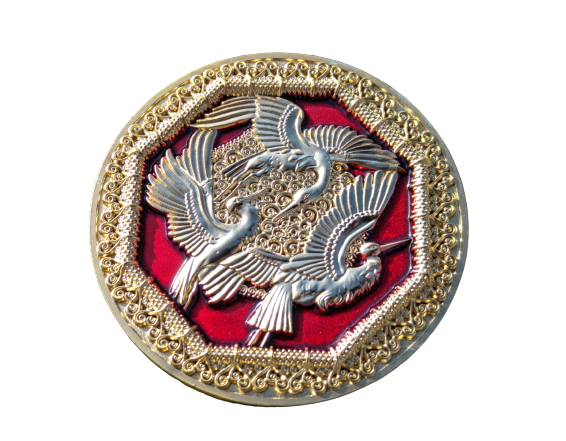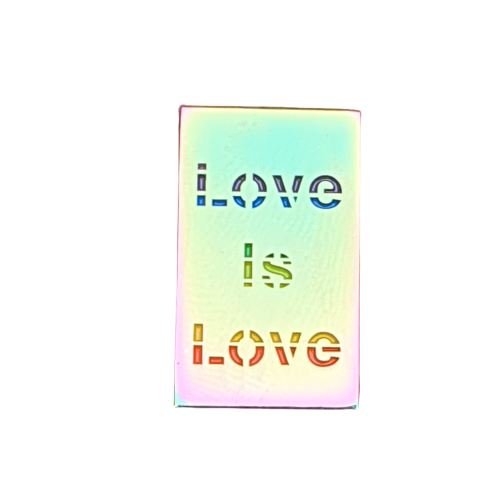 I want a pin badge making and have heard that there are different ways to colour them. Which do I use?
You are right, there are several different ways to colour a pin badge and which method you use depends on how you want the pin to look like.
These are the basic methods of colouring a pin badge (or any other metal item) and what the differences are:
UV Printing. UV printing is used to give the widest colour range possible. You are printing the design onto the metal so you can have almost anything on the pin. UV printing is vulnerable to damage so normally it will be covered with a clear epoxy coating or a clear plastic sticker to protect the print. UV printing can be used on almost all finishes.
3D UV Printing. 3D UV is a special process that prints onto shaped items. It is more expensive than standard UV printing but is also more durable so does not need covering.
Soft enamels. Soft enamels are imitation enamels. They are made from plastics, not glass. There is a huge range of colour choices and you can choose to have glow in the dark, glitter, translucent or solid colours. Each colour has to be separate from the colour next to it so a small ridge of metal is needed between each colour. Soft enamels look like a painted surface and can be used on almost all metal finishes.
Hard Enamels. These are the same as soft enamels apart from the final look. Hard enamels fill each space and so give a different look to the end product (see picture below). Hard enamels cannot be used on all metal finishes, painted black, some antique and spray finishes cannot be used with hard enamels.
Real Enamel. Real enamel is made from glass. It is translucent in colour and can only be used on a few finishes. It is expensive compared to all other methods.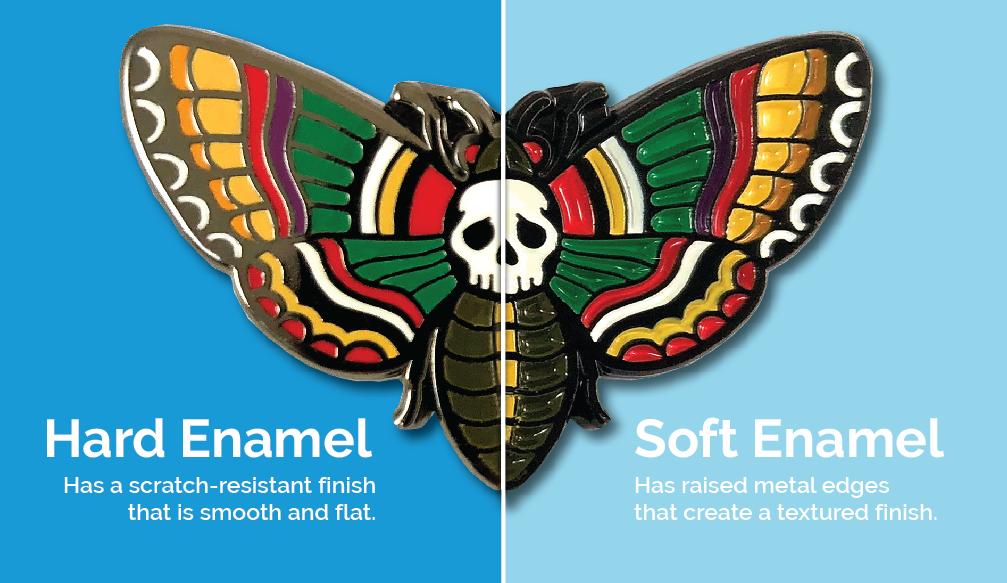 When to Pick Soft Enamel
Soft enamel is one of the most popular types for pins, having a raised and textured look and feel that many people enjoy.
Enamel pins must be baked in an oven to cure and harden the enamel. Unlike hard enamel pins, the soft enamel metal plating process is done before the enamel is filled in. This means that there are some metal finishes that can only be on soft enamel. If you want your pin to be painted black, or painted any other custom colour, then you'll need to use soft enamel.
When to Pick Hard Enamel
Hard enamel pins are more durable and scratch-resistant compared to soft enamel. Many people choose hard enamel over soft enamel because of the clean, finished look. Many designs can work in both hard and soft enamel, so most of the time it comes down to personal preference. Hard enamel pins are first filled in with colour, then the pin's face is ground down to be flat and smooth. The grinding and polishing makes them incompatible with certain metal finishes. If you want a standard gold or silver metal plating, then hard enamel might be a good choice for your design.
Any Questions?
If you have any questions at all please do contact us via our website or email, we are always happy to discuss your ideas and we do not charge anything for this.