About Us
Welcome to craftgenix the home of bespoke craft items
craftgenix was founded by Ian Ledger and first started trading in 2015 from a bedroom as Geocache Land. Back then we sold geocoins and a few geocaching containers. Over the next couple of years, due to customer demand, our range of products expanded rapidly and we started to produce geocoins and pin badges for individuals, shops and events.
In 2017 the company was split into two parts, Geocache Land and Geocoins R Us. Geocache Land continued to be the retail section of the company and Geocoins R Us took over the production arm.
In February 2018 Geocache Land became Geocache Land Ltd and started using the trade names Geocache Land and Geocoins R Us. Due to the vast increase in products that Geocoins R Us were now producing it was quickly realised that the name for this part of the company no longer suited all the products we made. In late 2018 Geocoins R Us was re-branded as craftgenix.
In early 2021 it was realised that due to the Covid-19 pandemic that the geocaching part of the business was no longer viable and in March 2021 this part of the company was closed down and all our time would be spent on the craft side of the business.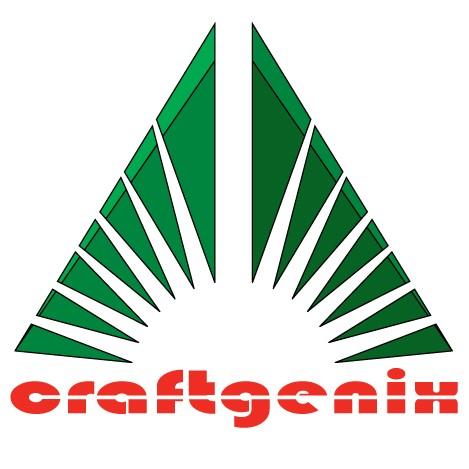 Scottish craft items that are made in Scotland.
Craftgenix is the trading name of Geocache Land Ltd. Originally formed to produce geocoins we have greatly expanded and now produce a wide range of craft items and promotional corporate products.
Based in Leadhills, Scotland's highest village, craftgenix remains a small family firm and take great pride in all the items we produce and only sell items we would happily buy and use ourselves. Every item has been extensively checked and tested before we put it on sale. If we are not 100% happy with an item, we do not sell it. We make our products right here in our workshop, there are no pre-purchased kits or imported mass produced Chinese made items like you may find from other retailers.
Most of our designs are drawn by ourselves and we get all our materials from sustainable sources and from within the UK whenever possible.
When not at our workshop we can often be found selling at craft fairs and events across Scotland and the north of England.
All the products craftgenix sell are made by Ian Ledger.
Ian, the founder of the company, is a self taught artist and designer and also has a keen eye for photography. Ian's photographs have been exhibited in galleries around the world in places such as Stockholm, Athens, Johannesburg and New York.
Ian also designs many of the products we sell and his main area of interest is Celtic and Viking designs.
Our new lead designer is Kat who is known by her profesional name of Thecrazykat. Kat is from Germany and is known for her fantasy and Gothic designs. Kat joined the company in early 2021 and is looking forward to expanding our range with exciting new designs and products.
We do also use other designers from time to time, when we do the artists are credited in the item description.
As well as our range of craft items we are able to produce many other items including commemorative coins, pin badges, awards, trophies, corporate branded items and much more.

Our corporate customers include, but are not limited to:
Edinburgh Geological Society
The Scottish National Wheelchair Curling Team
Ripon Cathedral School
Museum Of Leadmining
Stramash Creations
Geocaching Association of Great Britain
JP's Geodesigns (Estonia)
Kelux Geocoin Designs (Brazil)
UK Geocaching Mega 2017, Devon
UK Geocaching Mega 2018, Yorkshire
UK Geocaching Mega 2019, Aberdeenshire
UK Geocaching Mega 2020, Sussex
UK Geocaching Mega 2021, Lincolnshire
Caledonian CacheFest (Scotland)
South Derbyshire Geocachers (England)
Geocoinfest Europe 2019 (England)
Cache Village (France)
The name "craftgenix" and the logo are registered trademarks of Geocache Land Ltd.
Looking to the future
As a new era dawns in 2021 we are looking to the future and already planning to expand our range of products and designs. We will be introducing a range of glassware very soon plus cutting/ chopping boards and much more.
Events
Craftgenix attend events throughout the year. For our current calendar please click here